Best Companies League Table Success
25 May, 2022
2 minutes
Meridian's Best Companies RankingsOn Friday, in a virtual day presented by BBC's Dan Walker,...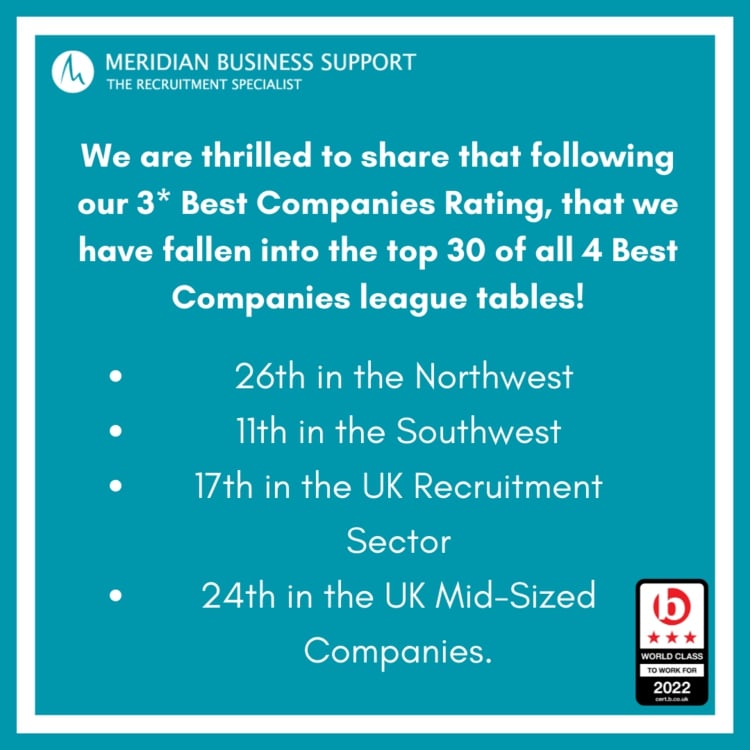 Meridian's Best Companies Rankings
On Friday, in a virtual day presented by BBC's Dan Walker, we were delighted to receive our rankings within the Best Companies UK league tables.
This followed our accreditation of 3-stars in the prestigious Best Companies ratings in April– the highest accreditation a company can receive. This meant we were ranked within 4 tables, the Northwest, Southwest, Mid-Sized Company, and Recruitment Company.
After a tense wait to see where we placed within the country, we were thrilled to place:
26th in the Northwest
11th in the Southwest
17th in the UK Recruitment Sector
24th in the UK Mid-Sized Companies
Meridian's Head of HR, Sarah Ward said: "It is such an honour for Meridian to receive our 3* Best Companies rating, and then to place so highly within each of the league tables is an incredible reflection of the hard work of the Meridian team."
Best Companies create their league tables each quarter, and we are happy to be new additions to some of these league tables; the rest of which we have climbed through the rankings year on year to help businesses to create a 'happier and healthier workforce', which we are proud to uphold as a key value at Meridian. Under the leadership of CEO, Derek Skelton, Meridian is continuing to go from strength to strength, with 2021 having been our best year to date.
We are very proud to have achieved such an accolade and would like to extend our thanks to the entire Meridian team who filled in the survey and work so hard every day to help us achieve such praise and status across the UK.