about 5 years ago by Eavanne Allen
5 Simple Ways to Stay Focused at Work
You've got what seems like a million things to do, an important meeting in half an hour and your phone hasn't stopped buzzing all morning. There's no harm in taking a quick two minute break to catch up with what's happening in your digital bubble, is there?
Well, actually, there is... it's said that every time you get distracted, whether it be sending a quick text or checking social media, it can take up to 25 minutes to get back in the zone, so whilst it may not seem like a lot, you're really hindering your daily productivity.
If you can avoid the little distractions, it can make a huge difference to what you can achieve in a day. Cameron Mclennan from Firefish Software highlights five simple ways to stay focused at work.
1. Remind yourself of the point or the why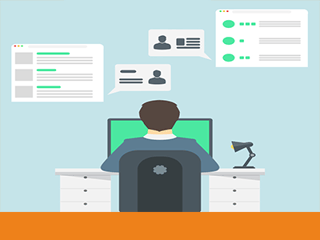 Everyone has to participate in boring tasks in their working life, it's a given. However you need to remind yourself why you're doing them in the first place. Your task could include anything from mundane calls or emails, to general website maintenance. But have you ever thought what would happen if you didn't carry out these tasks?... you might miss an important meeting with your client, essential materials may not be ordered for that event coming up, or your SEO could drastically decrease.
All of these tasks add up to the bigger picture and help you grow and learn at work; so remember no task is too small, that email confirming a meeting with a client could lead to an exciting new project and may just get you a promotion!
The best tip? If your motivation starts to fade away, pick it up by thinking about the end game!
2. Don't get taken down a rabbit warren!
Are there certain tasks that throw you way off focus? If so, you need to identify the things that lead you down the road of distraction.
If you know you can't resist a sneak peak on social media or catching up on the news then you need to organise your day to ensure you're more proactive. We're all human and sometimes we need a quick break to refresh ourselves. Set yourself an allocated break time throughout your day, take a breather and then get back on track, sometimes these breaks help us to re-evaluate what we're doing or spot mistakes with fresh eyes.
Not sure where your day goes? Write down what distracts you the most in your working day and the task that you were working on when it happened. Being aware of what distracts you will make it easier to recognise when you are about to get side tracked and put a stop to it.
3. Use tech to your advantage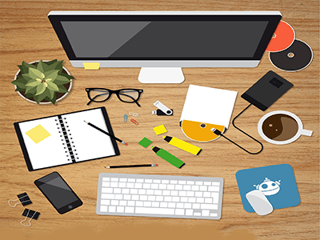 Most would come to the conclusion that with 24 hour access to technology, it's easier than ever to become distracted at work.
For some this may be true, but actually we can use technology to do the opposite. Nowadays we can monitor how long we spend on specific sites and block the ones that take us too far away from the task at hand.
If your office allows you to wear headphones then utilise this for the better, block out your colleagues and play some calming music to help you focus, sometimes you need to take a step into your own little bubble to get the job done.
4. Get away from your desk at lunchtime
According to a recent Bupa Survey: "Two thirds of employees said they are not always able to stop work to eat lunch for 20 minutes, while 28% don't take a minute to themselves at all during the workday, even though it's the minimum legal requirement for people working six or more hours"
Too many of us are guilty of eating at our desks and not utilising our lunch break. Step away from your screen and stretch your legs even if it's just for a five minute walk. You'll come back feeling refreshed, motivated and will be more likely to achieve more in your afternoon.
5. Think to the Future
The more work you get done now, the less work you are leaving for your future self... not only will you be lessening your workload but you'll be setting yourself on the right track to your career path. work hard now and reap all the rewards later.
Adapted - Cameron McLennan from Firefish Software
​​​